Two-Day Workshop // Sat 21st & Sun 22nd June // 10:30am-4:30pm Both Days // Cost: £100 + fabrics // Instructor: Marion Parola and Yvonne Elliott of Bespoke Atelier, and Susie Haigh of Podnip
About This Course
The Stitchery has teamed up with Glasgow based Textile Designers Bespoke Atelier to offer this truly unique two-day workshop. On the Saturday students will be screen-printing their very own fabrics at Bespoke's studio in The Glue Factory. These wonderful creations shall then be whisked over to The Stitchery on Sunday where students will be instructed on foundational sewing techniques, before using their very own screen-printed fabrics to construct a lovely cushion cover.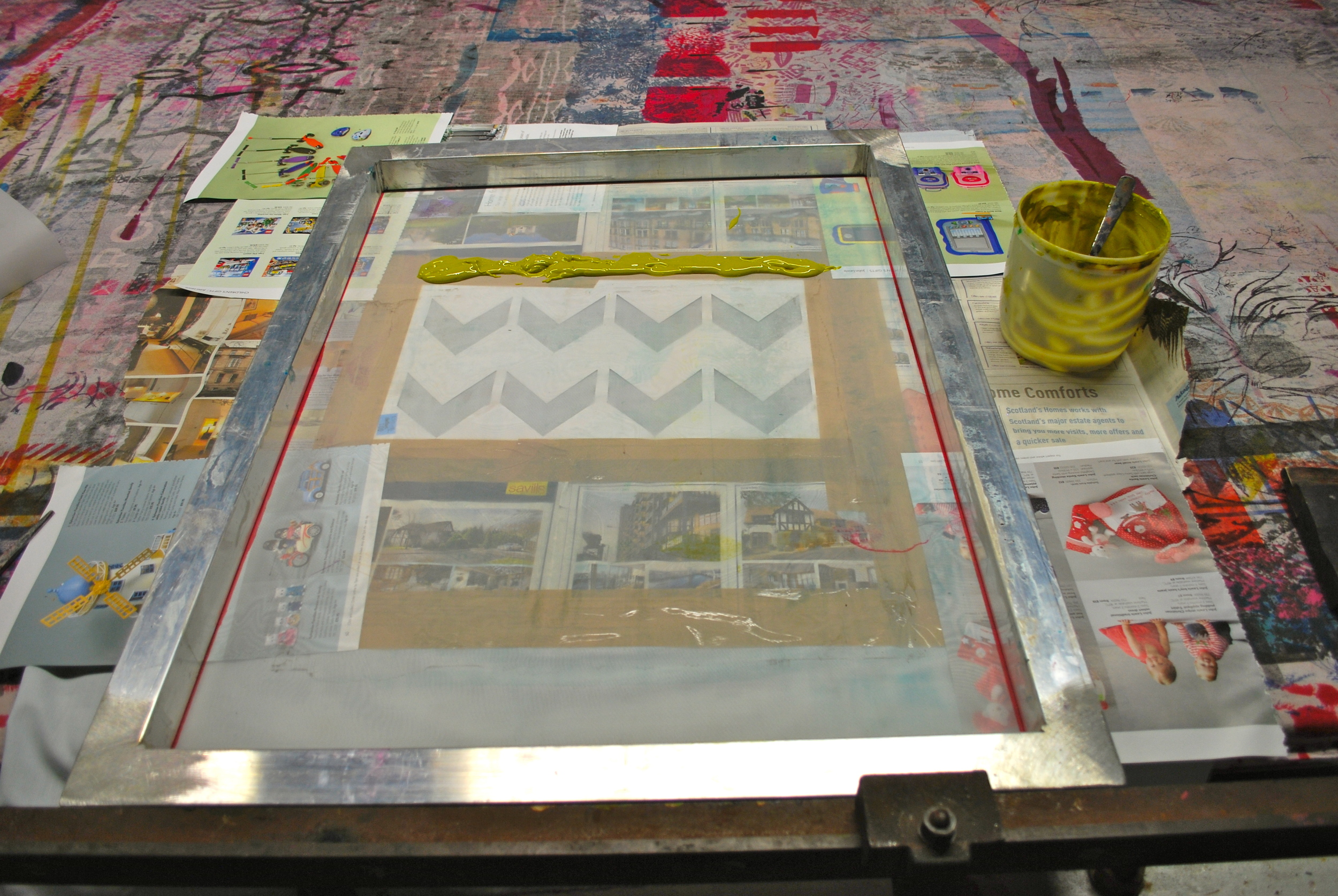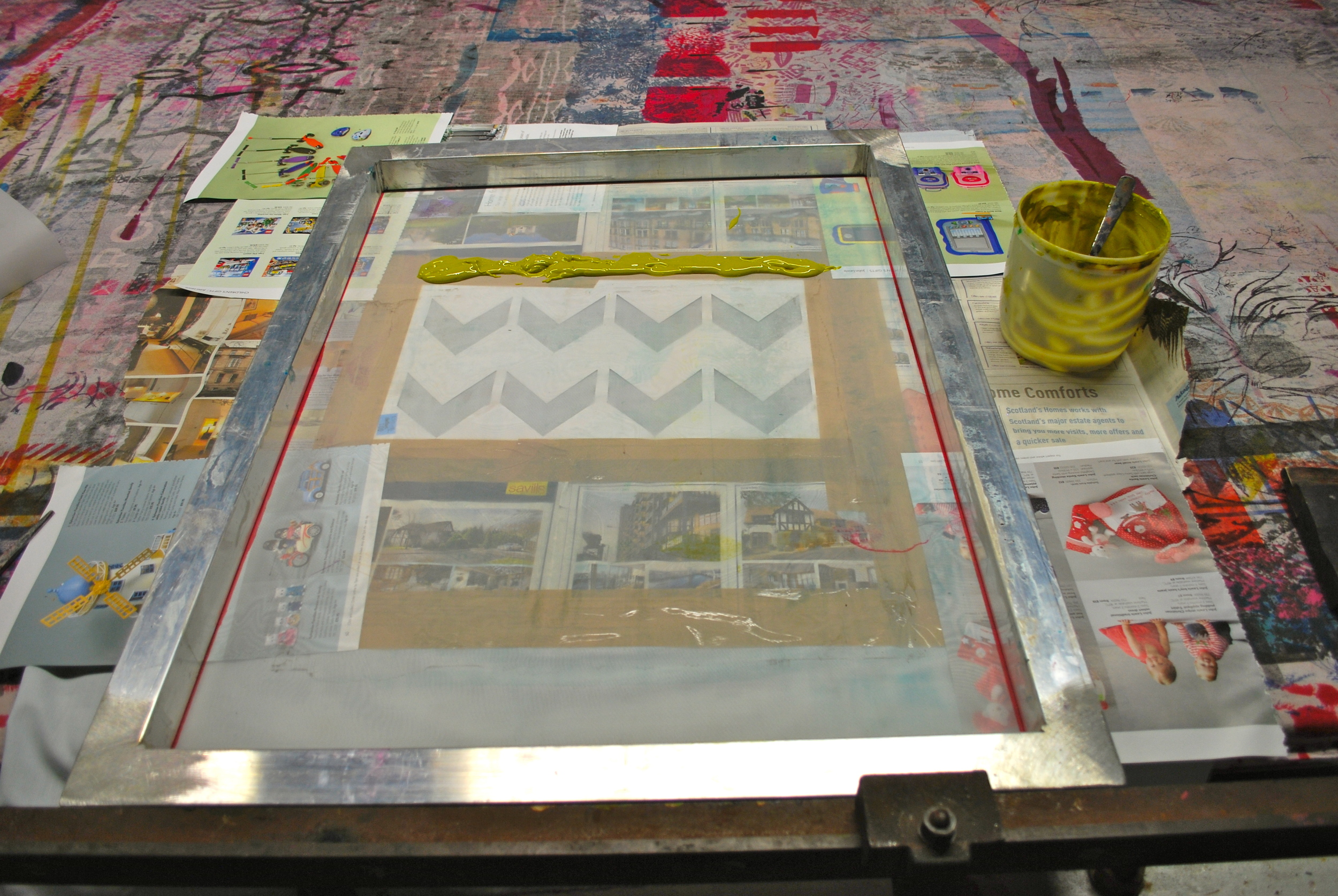 The Saturday - Screen Printing at Bespoke Atelier
From the first steps of designing a stencil to he final pull of the squeegee, Bespoke's beginner level fabric workshop will guide you through the beautiful process of screen-printing. Designers and instructors, Marion Parola and Yvonne Elliott, will be on-hand throughout the day to offer you ideas, examples, and tips from their own wealth of experience.
The Sunday - Cushion Making at The Stitchery
Cushion making is addictive, as many of our students have discovered. Once you learn to make one you'll probably go home and make a few more.
This part of the weekend workshop, led by independent Designer Susie Haigh, will cover some basic sewing techniques and also give a practical introduction to the fun filled activity of free motion embroidery. Students will then use these skills to make a cushion cover out of their very own screen-printed fabrics.
Booking Your Place
To book your place on this course, you can use our online booking system below. You can pay a deposit of £10 or, if you prefer, pay the full course amount. You can pay by Paypal or any major credit/debit card. (Note that the booking system uses PayPal to process payments, but a PayPal account is not required. Simply select to pay by credit/debit card without registering at the PayPal page).
Any Questions?
If you have any questions please have a look at our FAQs page. We also recommend reading the relevant page on our Course Information directory, which includes essential information such as what supplies you'll need for the class.
If you don't find your answer in either of these places, then please feel free to contact us.
Refund Policy
Because of the popularity of our courses and the limited number of spaces available, we've now introduced a Cancellation & Refund Policy. The main aim of this is to make it fairer on those people who have signed up to the waiting list and to try and reduce last minute cancellations. Please familiarise yourself with this policy (below) before booking on this course.
Non-Refundable Desposit
All our courses and workshops require a £10 deposit to book your place. This deposit is non-refundable. If you pay the full course fee at the time of booking, then £10 of of that fee is retained as your non-refundable deposit.
Cancellation & Course Fees Refund
If you decide to cancel your booking and you have already paid the full course fee, then you are guaranteed a full refund (minus £10 deposit), so long as you cancel 7 or more full days before the start of your course/workshop.
If you cancel within 7 days of the start date of the course/workshop, a refund will only be issued if a replacement student can be found to take your place.
If you decide to cancel your place once the course has started, a refund is not guaranteed. In this situation we shall review the circumstances of the cancellation before deciding on appropriate solution.